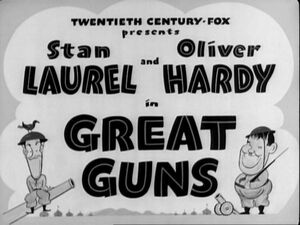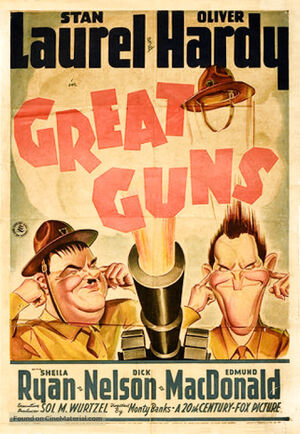 Great Guns is a Laurel & Hardy sound feature film released 10 October 1941.
Summary
The young and spoiled but feeble Daniel Forrester IV, a very rich eligible bachelor, gets his draft notice from the US Army and is beside himself with joy, hoping to prove he does not have the weak constitution his aunts Martha and Agatha believe him to have. Daniel performs well at his army physical and is enrolled in the Army soon afterward.
His chauffeur Ollie and gardener Stan join the Army at the same time so they can look after him. They all go to basic military training at legendary Fort Merritt in Texas. Daniel finds the Army to his liking, performing excellently at the exercises, but Stan and Ollie are less happy with their new duties. Their drill sergeant, Hippo, considers Stan and Ollie to be lazy, and their antics drive him crazy. Stan's pet crow Penelope is a constant source of irritation, but what irritates Hippo most is that the fort's photo developer, Ginger Hammond, takes a special interest in Daniel. The sergeant has tried to catch Ginger's heart himself for quite some time, and becomes jealous of Daniel. Daniel confesses his love for her in his sleep, while Stan and Ollie listen.
Stan and Ollie do not want Daniel to pursue Ginger, since they are not certain that his health will cope with the strain of a romantic involvement. They pose as businessmen and pay Ginger a visit at home, and try to deflect her by telling her that Daniel is broke and not the catch she believes he is. She recognizes them and throws them out of her apartment. Hippo also tries to break up the loving couple by cancelling Daniel's night leave and making him a prisoner in the guard room instead.
Stan and Ollie are captured by the opposing team in a military exercise. When Daniel hears about this, he escapes his lock-up and uses Penelope to find Stan, and Stan and Ollie's team win the maneuver. Daniel and his servants become heroes, and Daniel and Ginger become a couple. Penelope gets her own bird-size uniform and all the boys participate in a military parade together, while the aunts and Ginger watch.
Cast
Stan Laurel as Stan
Oliver Hardy as Ollie
Sheila Ryan as Ginger Hammond
Dick Nelson as Dan Forrester
Edmund MacDonald as Sgt. Hippo
Charles Trowbridge as Colonel Ridley
Ludwig Stössel as Dr. Schickel (as Ludwig Stossel)
Kane Richmond as Captain Baker
Mae Marsh as Aunt Martha
Ethel Griffies as Aunt Agatha
Paul Harvey as General Taylor
Charles Arnt as Doctor
Pierre Watkin as Colonel Wayburn
Russell Hicks as General Burns
Irving Bacon as Postman