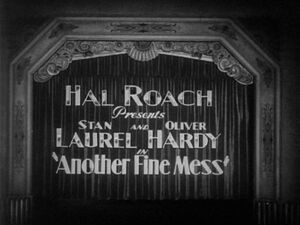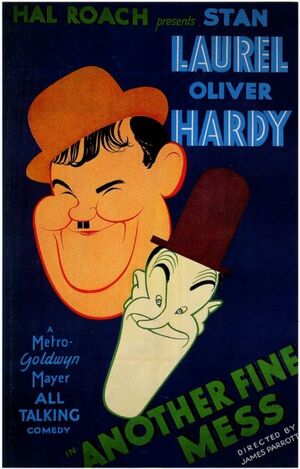 Another Fine Mess is a Laurel & Hardy sound short film released 29 November 1930.
Summary
Stan and Ollie are vagabonds being chased by the police. They hide in the cellar of the mansion of an adventurer, Colonel Wilburforce Buckshot, who departs for a safari in South Africa. The mansion is to be rented out until his return, but the staff sneak off for a holiday, leaving the house empty. The boys are surrounded by police and have to deceive a honeymooning couple wanting to rent the house. Ollie disguises himself as Buckshot and Stan disguises himself as both butler Hives and chambermaid Agnes.
During a girl-talk scene with Thelma Todd and Stan (disguised as Agnes), Stan's comments get sillier and sillier. The real Colonel returns to fetch his bow and arrows, and finds the disorder that ensued after his departure. Ollie continues his masquerade as Colonel Buckshot to the real colonel, until he sees the real owner's portrait on the wall. Stan and Ollie escape the ensuing row dressed as a wildebeest on a stolen tandem bicycle. They ride into a railroad tunnel and encounter a train, but emerge riding unicycles.
Cast
Stan Laurel as Stan
Oliver Hardy as Ollie
Harry Bernard as policeman
Bobby Burns as bicyclist
Betty Mae Crane as talking titles
Beverly Crane as talking titles
Eddie Dunn as Meadows
James Finlayson as Colonel Wilburforce Buckshot
Charles K. Gerrard as Lord Leopold Ambrose Plumtree
Bill Knight as policeman
Bob Mimford as policeman
Gertrude Sutton as Agnes the maid
Thelma Todd as Lady Plumtree